Kearny Mesa Personal Injury Patients
Benefit from Chiropractic Care
A personal injury can be devastating, especially if the pain impacts your ability to live an active life. Whether you have suffered a slip and fall or a herniated disc, healing from a personal injury requires a dedicated, experienced team. For over 25 years, Dr. Charles Salanger and Dr. Carol Spiegelman have used advanced spinal correction and state-of-the-art chiropractic techniques to help patients heal quickly and safely.

San Diego Chiropractors in Kearny Mesa Help Personal Injury Victims
Our approach to treating a personal injury is different than traditional medical care. We focus on the entire body and use diagnostic assessments to detect the actual source of the injury. By correcting the underlying cause, we provide long-lasting relief without the need for prescription painkillers or invasive surgery.

A herniated disc is one of the most common personal injuries that can lead to chronic pain, including sciatica. A simple slip and fall, improperly lifting a heavy box, or the force of impact from an auto accident can all cause serious damage to the musculoskeletal system. When a disc slips out of alignment, it may compress or pinch the nearby nerves. Depending on which nerve is compressed, this painful condition can lead to chronic pain in the back, neck, shoulder, legs or buttocks. While prescription medication can temporarily relieve the pain, as long as the herniated disc puts pressure on the nerves, the pain will continue. Adjustments from our Kearny Mesa chiropractors can correct this problem, restoring alignment to the body and providing permanent relief from back pain, neck pain, headaches and migraines.

Car accidents can also have a devastating effect on the body. From strained muscles to whiplash injuries, a car accident injury can cause long-term back pain, neck pain and headaches. If you are a car accident injury victim, our chiropractors urge you to seek immediate treatment. The faster we can begin helping you heal, then the less of a risk there is for scar tissue and serious neck pain, back pain and headaches.

At our Kearny Mesa office, we provide care for the entire family - from expectant mothers and pediatrics to car accident injury victims and senior adults. We find that many of our patients benefit from a comprehensive approach to treatment. This means that in addition to adjustments, we offer complementary treatments like massage therapy and corrective exercises that can speed healing after a personal injury.

Massage and Corrective Exercises Aid Injury Recovery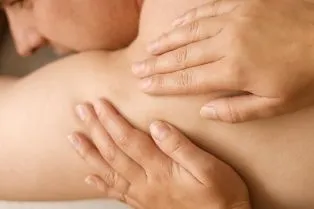 Massage is a natural, conservative treatment that promotes the flow of blood and lymph in the muscles. This helps flush out toxins and lactic acid that block healing. Our massage therapist will apply targeted pressure to the connective tissues in your body, helping to lengthen the muscles, release tension and reduce spasms. Our chiropractor will work closely with the massage therapist to ensure that each treatment is targeted specifically to your wellness and injury needs.

Following a personal injury like sciatica or a herniated disc, it can be incredibly painful to move parts of the body. Injured soft tissues and muscles can become stiff, tight or weak. Unfortunately, to compensate for this pain and stiffness, our bodies may naturally adjust their movements, which can lead to future injury and pain. Corrective exercises can help restore a full range of motion to the body by "re-training" the muscle movements.

---
As your San Diego chiropractors in Kearny Mesa, we are committed to helping heal safely and quickly. Schedule your diagnostic appointment today by calling (858) 565-8645.

---